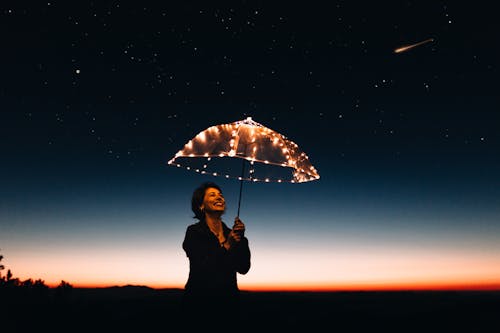 In order to focus, you have to set a clear goal for yourself. Without a clear and solid goal, focus cannot happen. You cannot focus on anything. You need a clear goal to be able to focus on something. If you don't have a goal, a vision, a dream, how can you focus? It is impossible.
You cannot focus without a vision. Sometimes it is hard to remain focused on our goals. We are distracted by our own thoughts, the society, our friends, technology, and/or our own relatives. If you allow them, they can distract you from reaching your goals. How? They can talk you out of your dream. They will give you one trillion reasons why your dream is not going to work. Some will say it to your face. Others will say it behind your back. Remember, they are irrelevant. What is relevant is what you think and say about yourself.
Before we continue, let us look at what great minds have said about "The Power of Focus."
Kelvin Harrington said, "Get clear on what gives your life value, and what your time is worth." Source: Entrepreneur.com/ 19/11/2017
James Allen said, "The vision that you glorify in your mind, the idea that you enthrone in your heart- this you will build your life by, this you become."
Dorothea Brande put it this way, "Envisioning the end is enough to put the means in motion."
If you want to really focus on your life, your career, your personal and professional development, you need to change your mindset. You need to change your mindset from negative to positive, from impossible to possible, from 'I can't' to 'I can', from 'it is too hard' to 'it is easy,' from wrong to right. You need a change of mindset. Always focus on what you can do, not on what you cannot do. It is easier for people to see what is wrong than to see what is right in people. That is who we are. For example, if you have a major presentation to do tomorrow, instead of crying the whole night, instead of focusing on what can go wrong; focus on what can go right, focus on how you want to do your presentation. Go into your presentation with a positive mindset, and you will do well.
Why is Focus so critical to our personal and professional success?
Focus keeps you grounded.
Focus helps you concentrate on what is important, not on what is urgent.
Focus helps you ignore what is irrelevant.
So, how do we focus on what is important, not on what is urgent?
Here are some strategies that will help you focus on what is important in your life:
Set your personal and professional goals, and follow through. You will achieve your goals only if you follow through. Do not quit. Stick to your goals.
Know your strengths and weaknesses. It is unrealistic to focus on what you don't know. You will not do so well at it. But if you focus on what you are really good at, you will do very well.
Pay attention to details. The secret to success is to see what others do not see. You can only see what others ignore if you pay attention to details.
Do one thing at a time. Do not spread yourself too thin. Focus on what is important, not on what is urgent. What is urgent is not always what is important. To get the results that you want, you need to focus on what is important.
Learn how to say 'no' to assignments that will not help you reach your goals- short-term and long-term. Don't take on what you can deliver. Don't take on assignments that are more than what you know how to do. Take on assignments that are important, not on the ones that are urgent.
Write down your dreams. Write down your goals. Revisit them on a daily basis. It is not enough to just write them down. You need to visit and think about them every day. Make it a habit. It will become a habit.
Ask yourself great questions. Ask yourself these three questions: 1) What do I want for myself? 2) How am I going to get it done? 3) What will it take for me to reach my destination?
Motivation, motivation, motivation. When the journey gets really tough, you are the only one to motivate yourself. You know how far you are going to travel to reach your goal. You are so important to yourself, because the real motivation is from inside you, not from outside you.
Finally, if you want to achieve the unbelievable, you need to focus on what is important, not on what is urgent.